Workforce Programs
KIEDA offers programs and training for employees so the region is set up for success. The job market and labor pool is diverse; the employee base is prepared for various industrial tasks, manufacturing skills, agricultural skills and healthcare assistance. Business owners can access resources for the benefit of employees and overall business development.
Carroll County
The Carroll County Community Development Corporation (CCCDC) is an eighteen year running program designed to promote community development and to improve the quality of life for all who live and work in Carroll County.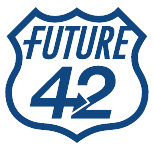 Jefferson Community and Technical College's advanced manufacturing programs create pathways to some of the most in-demand careers in the region. That pathway runs along Highway 42, home to the area's largest employers. The Future 42 initiative puts you in the field fast — college classes with the possibility of being paid to work at a company looking to hire people like you upon graduation.
Gallatin County
Recently a 9 million dollar airport improvement grant was awarded to Gallatin County.
Oldham County
Discover assistance through Colleges & Universities, Tech Schools and Training Resources.
Owen County
The Keep Calm and Work On Job Fair is an event that brings leading regional employers together to showcase many different career opportunities.
Trimble County
TRIMBLE County Adult Education provides services such as adult education classes, GED preparation, family literacy instruction, English as a second language classes, workforce education and reading instruction for eligible Kentuckians